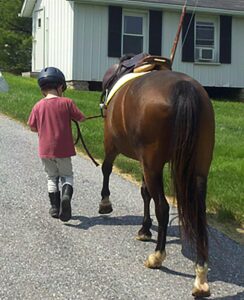 Horsemanship Camp – 4 years and older*
Week 1: June 19 – 23
Week 2: July 24 – 28
In addition to daily riding lessons, campers will also learn the finer points of grooming and tacking up their horses. Horse care and safety lessons are also part of the curriculum.
Each week there will be a variety of special activities that may include demonstrations by veterinarians, farriers, equine dentists and miniature horse and carriage driving.
Other activities include trail rides, water activities and pizza and dessert on Fridays!!!
*Kids in all camp weeks will be split into age-appropriate groups for certain daily activities.
Hours:
9:00am – 3:00pm (all weeks)
Cost:
$600 per week
Additional $25 per day for After Care
Clinic Week
July 31 - August 4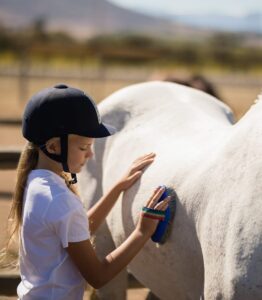 Requirements
Age 10 & older
Must own or lease a horse that can be used for the full week
Daily Activities
Students will be responsible for the care of their horse every morning (feed, muck, hay, water, etc…)
Students will learn general horse care, including but not limited to:

Nutrition (Grain, Supplements, etc…)

Equine Nutritionist as Guest Speaker

General Health Care (Temperature, heart rate, etc…)

Veterinarian will come as guest speaker

Emergency Horse Evaluation (Lameness, breathing, Wounds, etc…)

Students will learn how to body clip, pull manes, braid & other show preparation
Students will learn how to train horses by doing the groundwork
Daily lesson

Will be broken down into rider skill level

Tentative guest clinicians

Dressage
Side Saddle
Hunter/Jumper Judge to evaluate your riding in a show format with Q & A session
Polo Demonstration

Day of Cross Country at Spring Valley Park (Weather Dependent)

Horses will be shipped to the park for a day of riding cross country with size-appropriate jumps.

Daily Cool Off in the pool as time allows
Day of trail riding at local park off property
Date:
July 31 – August 4 (4 days)
Hours:
8:30am – 3:30pm
Cost:
$600
Additional $25 per day for After Care
Download Our Clinic Week Brochure